About iExec
iEx.ec aims at providing distributed applications running on the blockchain a scalable, secure and easy
access to the services, the data-sets and the computing resources they need. This technology
relies on the Ethereum smart contracts and allows building a virtual Cloud infrastructure that provides
high-performance computing services on demand.
iEx.ec leverages a set of research technologies that have been developed at the INRIA and CNRS
research institutes in the field of Desktop Grid computing. The idea of Desktop Grid (aka Volunteer
Computing) is to collect the computer resources underutilized on the Internet to execute very large
parallel applications at the fraction of the cost of a traditional supercomputer.
iEx.ec relies on XtremWeb-HEP, a mature, solid, and open-source Desktop Grid software which
implements all the needed features: fault-tolerance, multi-applications, multi-users, hybrid public/private
infrastructure, deployment of virtual images, data management, security and accountability, and many
more.
iEx.ec is developing a new Proof-of-Contribution protocol, that will allow off-chain consensus.
Thanks to the Proof-of-Contribution, external resource providers will have their resources' usage
certified directly in the blockchain. iEx.ec aims to deploy a scalable, high-performance, secure and
manageable infrastructure sidechain that will promote a new form of distributed governance, implying
key HPC, Big Data and Cloud industry leaders.
We believe in a future of decentralised infrastructure and market network, where Big Data and HPC
applications, highly valued data-sets, and computing resources (storage, CPU, GPU …) will be
monetized on the blockchain with the highest level of transparency, resiliency and security – and
iEx.ec as the key platform powering this future!
View the full whitepaper.
How to Buy iExec in the US
Quick reference instructions, followed by more detailed instructions and screenshots below.
Open an account on Coinbase.
Open an account on Binance.
Buy Ethereum ETH on Coinbase. ETH has a lower exchange and conversion fee and is faster than Bitcoin.
Fund your Binance account with the Ethereum you just purchased. Note: Coinbase will charge a $14.25 transfer fee, so make sure you purchase and send enough to make it worth it. I recommend at least $500 at a time.
Open the Exchange page on Binance and trade as you will.
The reason you must fund Coinbase first is the company accepts FIAT currencies, i.e USD, EUR, etc. From there, you can take your FIAT converted to ETH and purchase iExec, or any other coin at Binance.
These two companies are the most reputable I have currently encountered and used. Fees are reasonable compared to other options I've tried.
Fee roundup:
Coinbase: $14.25 to transfer to Binance
Binance: 0.1% trading fee.
Binance: Free to withdraw from Binance back to Coinbase.
Coinbase to Bank Account ACH: Free.
Total estimated fees on a $500 investment based on January 2018 rates: $19.25
Open an account in Binance.
Verify as necessary. The further verifications provided, the more you can deposit and withdraw at a time.
Click over to Funds, then Deposits and Withdrawals. You will be presented with a screen showing all of the available cryptocurrencies.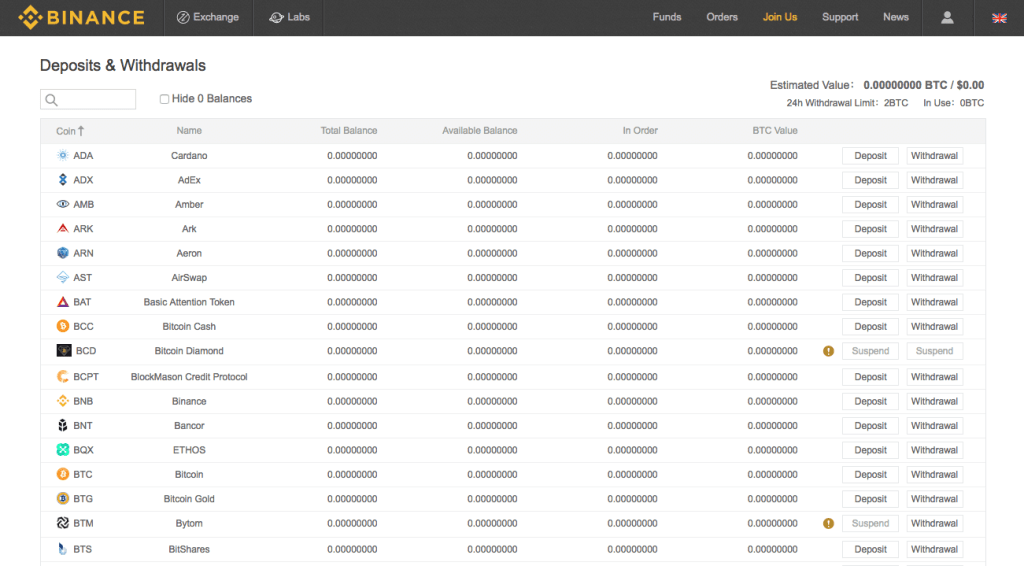 Click on Deposit for Ethereum.
You will be presented with an address to send your Ethereum to as a deposit. Copy the one time use address from Binance and paste it into the Coinbase accounts page under the Send button. The screenshot below shows BTC, but you will want to click on ETH.
Once the fund have finished transferring, head over to the Binance exchange.
Binance allows you to set limit, market, and stop-limit orders on buying and selling.
You are on your own from here. Good luck! To withdraw from Binance, go back to the Funds Deposits and Withdrawals page and click on the Withdrawal button for whatever currency you have.
Step by Step Instructions for using Binance
Now that your Ethereum has been successfully added, you can click Funds, then Deposits Withdrawals. Right in front of the coin you transferred, the total balance should reflect the value of Bitcoin or Ethereum you transferred.
Click on Exchange, right beside the Binance Logo, then select the Basic option.
On the Exchange page, look to the top right corner where you find the market pairs section above Trade History.
Look for the market pair you want to exchange. In this case, locate the RLC/ETH pair and click (search for RLC/BTC if you funded your account with Bitcoin).
The page loads the RLC/ETH pair, and you are set to exchange your coins for RLC.
Beneath the chart, locate Buy RLC section.
The first box shows the value of ETH per RLC to be purchased.
The second box is for you to enter the amount (number of coins) of RLC you want to exchange for your BTC or ETH you funded.
Below the Amount box, you have options to use 25%, 50%, 75%, or all of your deposited funds to buy the RLC cryptocurrency.
The total box shows you how much BTC or ETH you are paying to buy the quantity of RLC you entered.
Click the Buy RLC button.
Within some few seconds, you should have the RLC you have exchanged credited to your RLC wallet on the Binance platform.
Your RLC cryptocurrency is now available to be sent out to your wallet outside the exchange.
Is iExec RLC a Good Cryptocurrency Investment?
iExec is a decentralized application (dApp) running on the Ethereum network. It enables access to decentralized computing power, not only for individuals, but for dApps on blockchains as well.
Blockchain enables decentralized cloud computing. This enables users with excess computing power (most of us) to rent the power out to those who need it.
Ethereum is revolutionizing the Internet by providing programmable trust, in the form of smart contracts. These smart contracts act as trustless middle men, ensuring all parties stay honest, without the added cost and delay of lawyers and contracts.
With over 800 decentralized applications, Ethereum provides a secure, decentralized, and trustless development platform for the new Internet of Value. These new dApps utilize Ethereum for their smart contract and blockchain needs, storing the terms and state of the contracts on the blockchain. Ethereum's virtual machine is responsible for the execution of smart contracts.
Essentially, in layman's terms, virtual machines are machines that execute smart contracts and run inside the computers of miners or other validators. The VM is the environment that the smart contract runs in. Ethereum's VM is excellent for simple transactions and business logic — things like managing the rules regarding the creation and storage of information.
Although Ethereum is Turing-complete and theoretically capable of performing any computational feat given infinite time, the VM struggles when performing rigorous computations efficiently and at reasonable cost.
The solution to this is offchain computing. dApps need to be able to do their heavy computing offchain (meaning not on the Ethereum blockchain) and then bring the information and results back onto the Ethereum blockchain for verification. iExec enables just this. dApps can use iExec's decentralized cloud computing services to safely, simply, and cheaply, execute their computation far from the inefficient and incapable Ethereum VM.
The blockchain economy will need a service like iExec. In 2018, as dApps begin releasing their platforms, it will become increasingly clear that Ethereum will be ineffective for all that computation. With AI, smart cities, VR, and IoT all utilizing advanced smart contracts, there will need to be an offchain computing solution. iExec is that solution.
iExec processes the computations away from the blockchain and then transfers the results back to the blockchain. dApps can use this to perform complex computations like rendering, uploading, and all the requirements for AI, IoT, and VR, all without slowing down the Ethereum network.
The marketplace is the bread and butter of the iExec platform and will be released during the next update in Q1 of 2018. The marketplace essentially enables the buying and selling of computing resources. Users — you and me — can sell our excess computing power in the marketplace. dApps can then purchase and utilize those resources. Right now, even with the launch of SDK, dApps are only utilizing computing resources provided by servers maintained by iExec. This centralization is a short term limitation for iExec as the computational power is currently limited.
Once the marketplace is operational, it will truly be decentralized as many users will collectively provide the necessary resources for applications.
In the world of Big Data, companies have enormous amounts of data and no idea how to utilize it. This data could be anything from stock market or medical data to enormous quantities of consumer data. There are plenty of applications and services which could utilize that data and are willing to pay for it. This data marketplace enables that matchmaking. Companies that have excess data can sell the data to any application that wants to purchase it. All of the transactions are paid in RLC. Any data legally accumulated by a company can be sold.
iExec will have a marketplace where companies with large stores of lawfully acquired data can sell it to businesses and applications that can make use of said data.
All network fees are paid in RLC. Because there is a maximum supply of tokens, as demand for the network increases, so will the price of the token. As more dApps begin utilizing iExec and transacting with RLC, the price will increase.
Total Supply: 87,000,000 tokens
Marketcap: $79 million
Token Distribution:
69% released in ICO
17.2% held by the team and advisors
6.9% held as an emergency contingency fund
6.9% held by iExec for network incentives and development